DIAMONDGLOW® FACIAL TREATMENTS IN DENVER
DiamondGlow® BY ALLERGAN in denver
More than a glow, a skin-transformation for radiant, healthy-looking skin.
Experience DiamondGlow—a next-level, noninvasive skin-resurfacing treatment with proven results.
DiamondGlow is the ultimate next-level facial treatment developed by the experts at Allergan. Through an innovative form of microdermabrasion provided by our team and complemented with SkinMedica advanced skincare products, you can achieve an improved facial glow in Denver. Enhance your skincare regimen and give your skin the rejuvenating treatment it deserves with a DiamondGlow facial.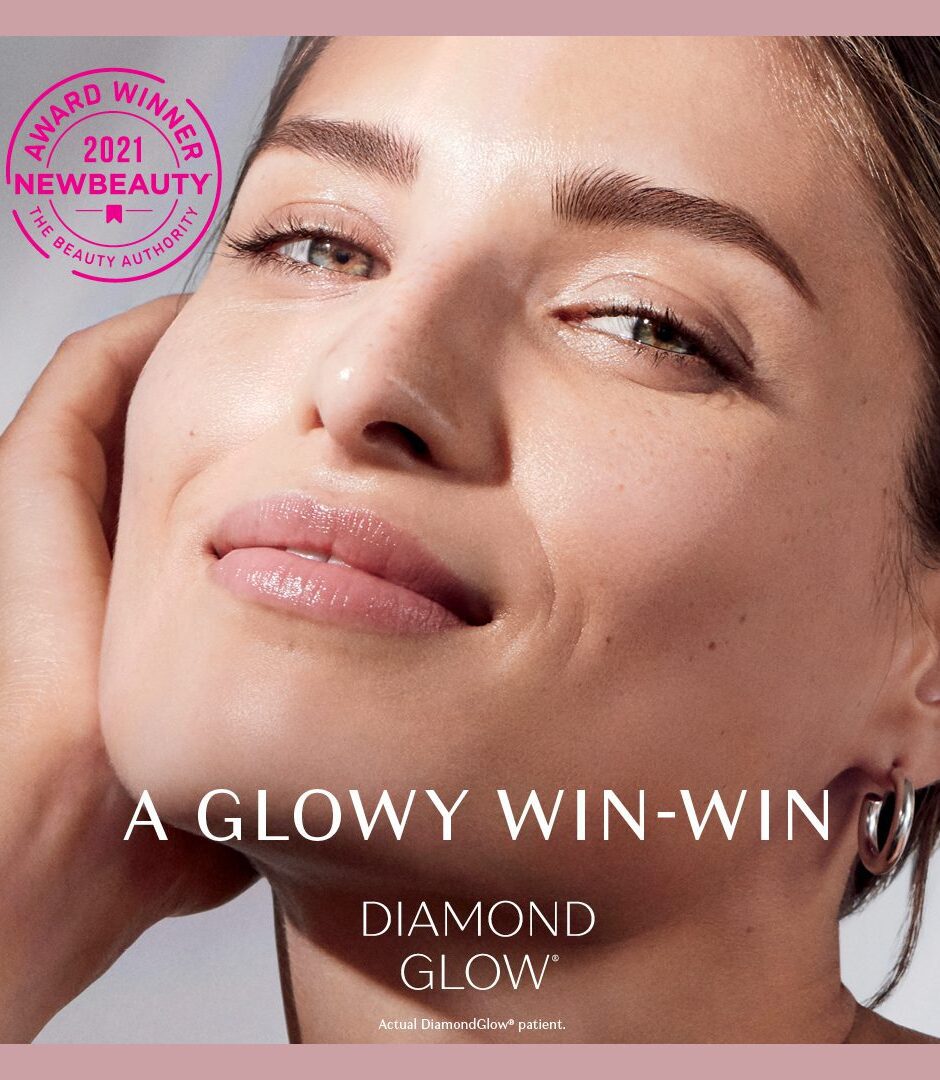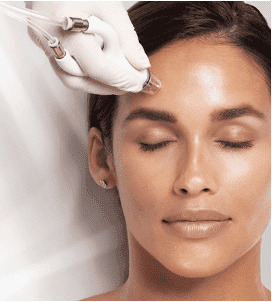 What is a DiamondGlow Facial?
Microdermabrasion is an aesthetic treatment that can improve your skin tone, appearance, and texture. Stubborn damaged and dead skin cells need more than just your average skincare products to exfoliate. Left untreated, these skin cells can leave lines, creases, and signs of sun exposure and skin damage. Once you get rid of these damaged and dead skin cells, you can make way for newer and healthier skin cells.
Our DiamondGlow treatment in Denver makes use of a small tool that benefits your skin in three ways. First, it exfoliates dead skin cells to make way for newer cells. Second, it removes dirt particles and other impurities. And finally, it takes a step beyond your typical microdermabrasion treatment by infusing your new skin cells with revitalizing customized serum.
As an expert provider for microdermabrasion in Denver, Cunningham Clinic offers DiamondGlow treatment that is a cut above the rest because of its thorough microdermabrasion procedure. By combining exfoliation and infusion at the same time, serums can penetrate your skin with superior effectiveness compared to your everyday skincare routine. Painless, non-invasive, and perfect for all skin types – DiamondGlow is the must-try facial treatment to achieve that natural facial glow in Denver, CO.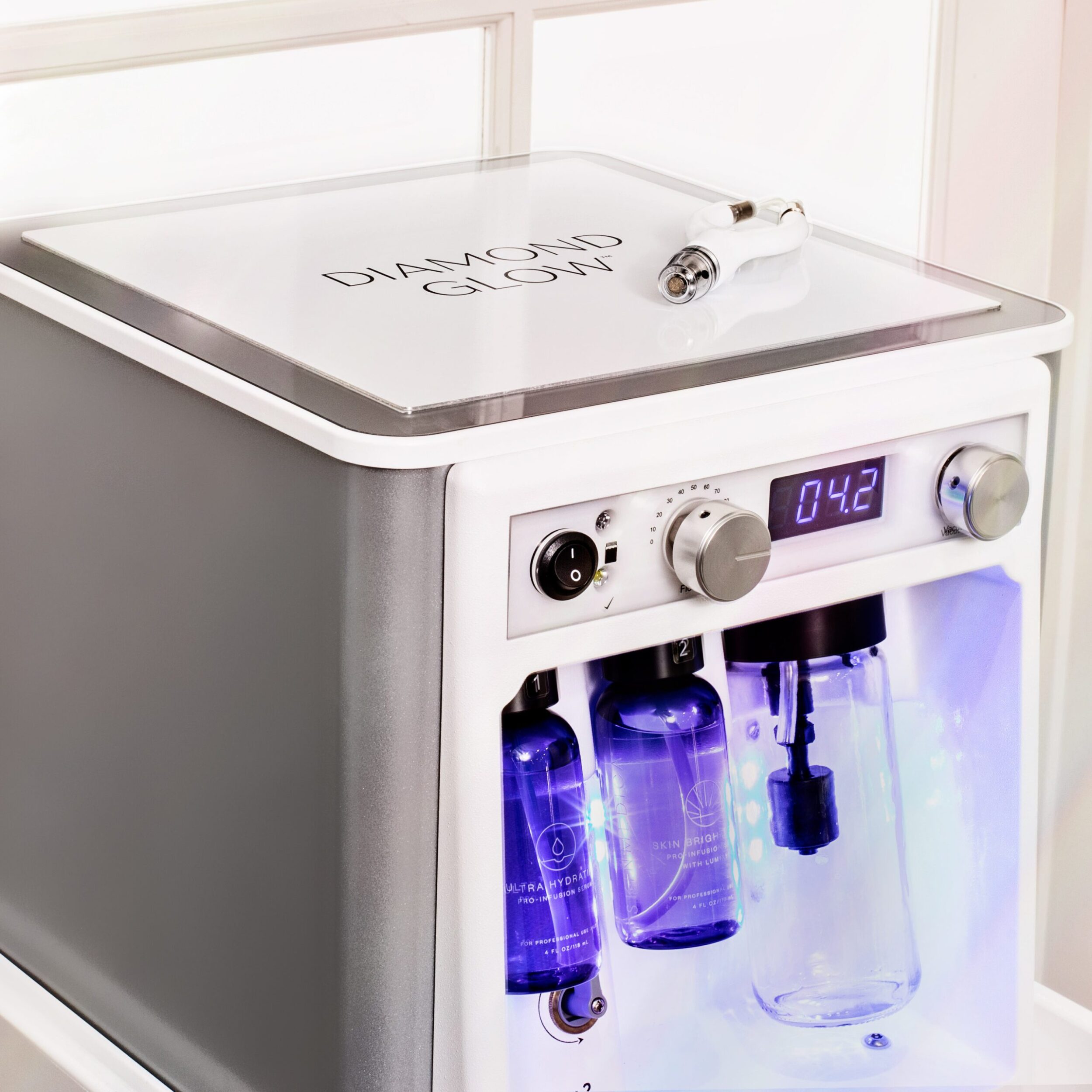 AFTER ONE In-OFFICE DiamondGlow® TREATMENT, SKIN APPEARS:
BRIGHTER
FRESHER
HEALTHIER
SMOOTHER
MORE EVEN IN TONE
CLEARER, WITH UNCLOGGED PORED
and beyond one DIAMONDGLOW® treatment, improved appearance of:
FINE LINES & WRINKLES
ROUGHNESS & DRYNESS
DARK SPOTS & SKIN DISCOLORATION
DULL, CONGESTED SKIN
Treatment that Surpasses Your Typical Microdermabrasion
Bring Out Your Natural Youth and Beauty Through Effective Skin Treatments and Serums
What Happens During a DiamondGlow Facial Treatment?
DiamondGlow facials take about an hour and are performed by our experienced providers. We use a small tool with a patented recessed diamond tip to resurface your skin and get rid of old dead skin cells and debris and uncover new skin cells. While this is happening, the device also infuses your skin with SkinMedica Pro-Infusion Serums that are customized to your skin's needs.
How Does DiamondGlow Treatment Work?
The skin resurfacing portion of your treatment exfoliates and extracts debris. In synergy with the exfoliation, your pores open up, which can make them the most receptive to additional nutrients applied to your skin. The device then releases SkinMedica Pro-Infusion Serums that deeply nourish your skin and provide an added layer of nutrients that give your skin a refreshed and hydrated appearance.
What Are the Pre and Post Treatment Procedures for DiamondGlow Facials?
DiamondGlow facials are minimally invasive, so very little preparation is needed. Avoid exfoliating and excess sun exposure a few days before your treatment to minimize discomfort during your treatment.
Following your treatment, there's little to no downtime required. This treatment is perfect for the modern and active individual on the go as you can resume with your daily activities immediately after treatment. Simply get back into your usual routine after experiencing the DiamondGlow treatment.
What Are the Results of a DiamondGlow Facial?
For issues like dull skin and fine lines, you can expect noticeable results instantly. It's recommended to develop good skincare habits, remaining consistent each day to maintain the appearance of your skin.
For issues like skin discoloration, hyperpigmentation, and uneven skin tone, you may need additional facials or treatments to achieve the level of improvement you're looking for. You can share your concerns with our experienced team and we'll be happy to assess your skin and unique needs.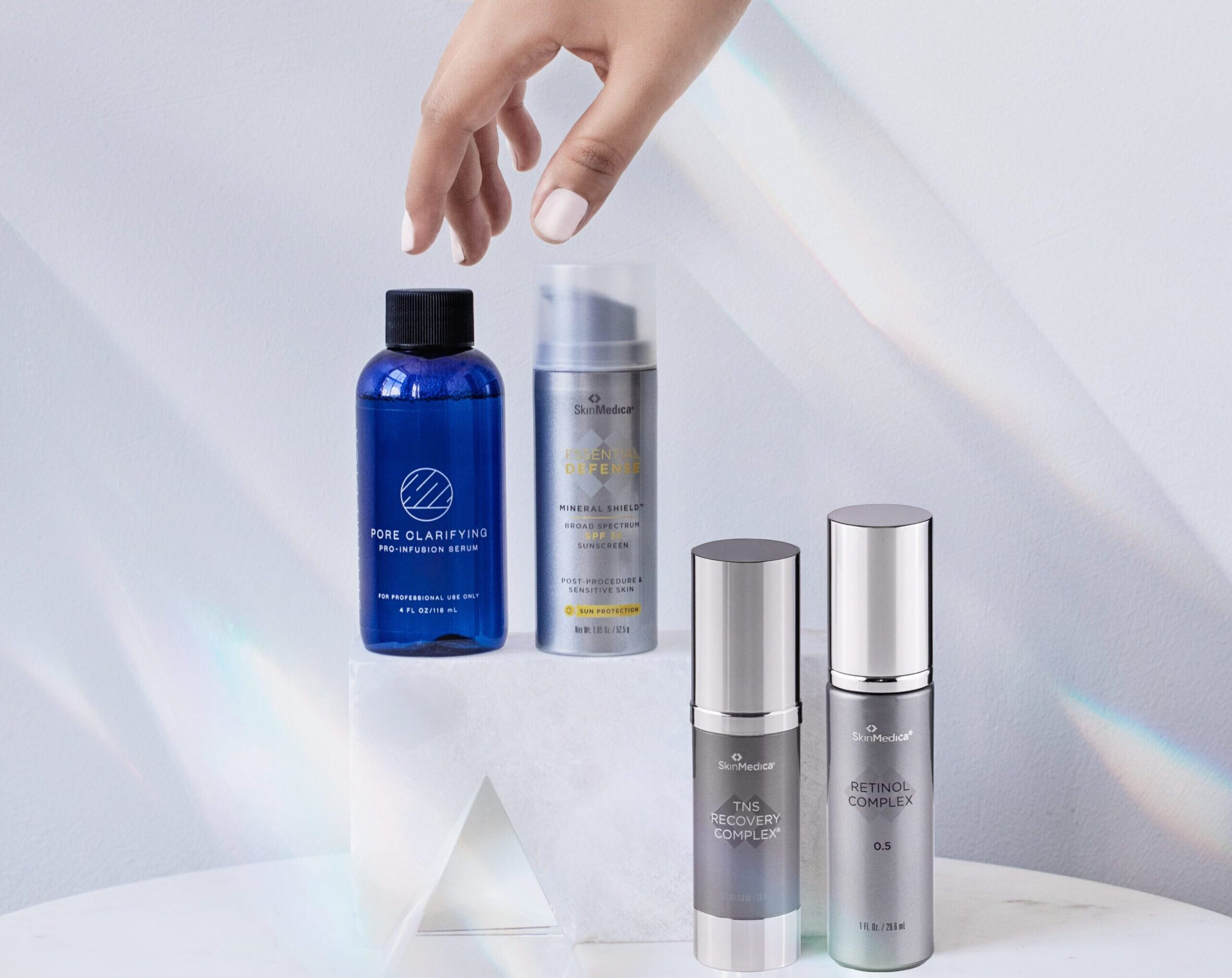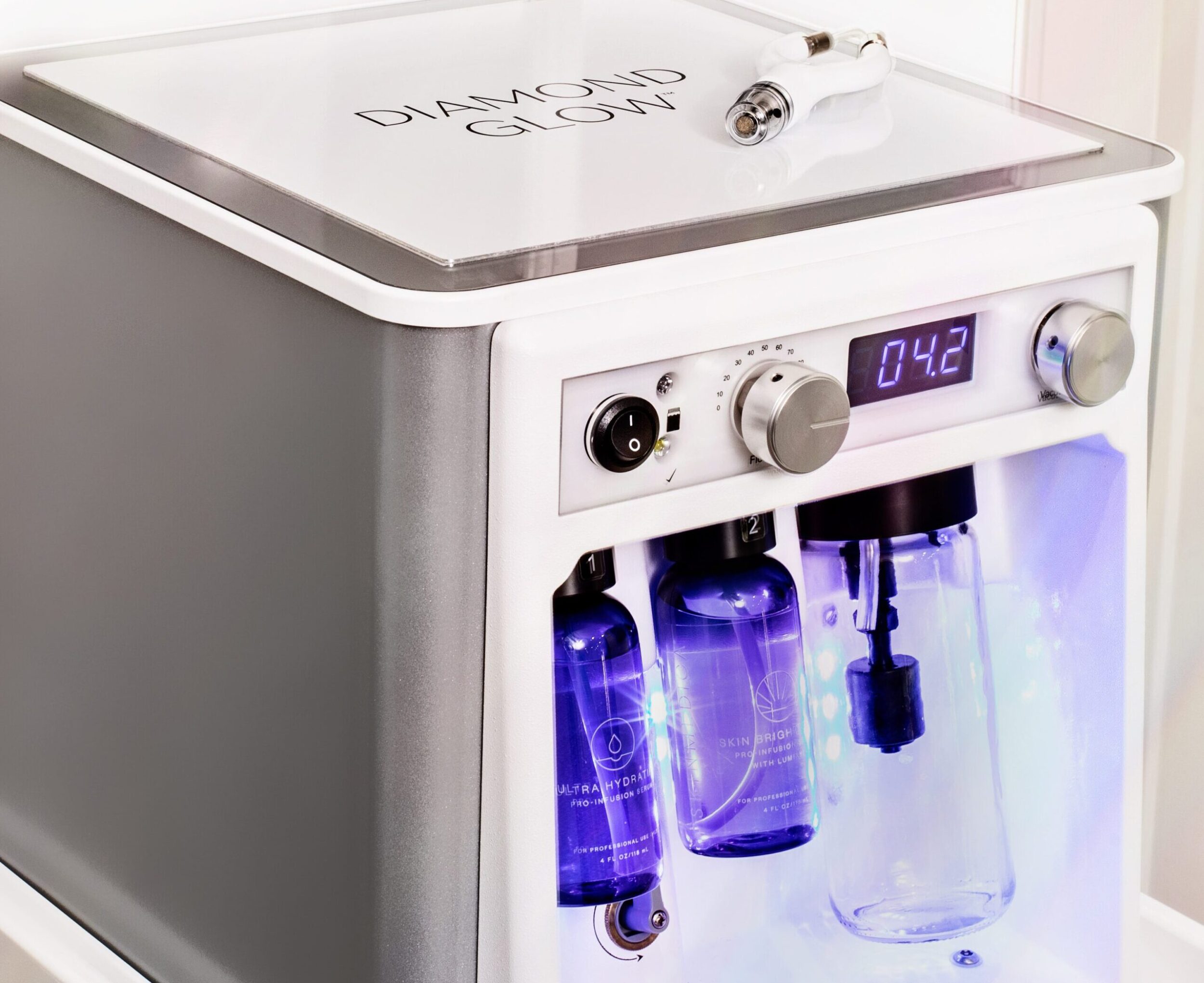 DIAMONDGLOW® FACIALS denver
A treatment as powerful as you are
DIAMONDGLOW® uses a diamond-tipped handpiece to painlessly exfoliate your skin, while gently vacuuming debris from your clogged pores and sweeping away the dead skin cells and contaminants.
Diamond Glow can be used on the body as well to infuse and polish the skin. It can help restore the elasticity of the skin and provide a deep lymphatic massage.
DIAMONDGLOW® facials can help improve:
Acne on the body, especially the back
Hyperpigmentation or Discoloration
Fine lines and wrinkles
Dry and dehydrated skin
Stretch marks
Sun damage
DiamondGlow Facial – $185
Add-on options:
Chest and/or Back – $75/$125
Dermaplane – $30

Experience the Difference of DiamondGlow Facial Treatment
After One DiamondGlow Treatment, Your Skin Appears:
Shed away dull and damaged skin cells to make way for newer and brighter skin that naturally glows. Reverse the effects of sun damage through microdermabrasion treatments and anti-aging serum solutions. Enjoy a radiant appearance and natural glow with the DiamondGlow treatment.
Microdermabrasion removes the dead skin cells that cause oil-build up and leads to clogged pores. Your customized serum can also hydrate and replenish your new skin cells. As a result, your skin is left feeling smoother, supple and soft to the touch.
DiamondGlow removes aging skin cells and replaces them with newer cells nourished to promote elastic skin. Serums can hydrate and bring out younger, nourished skin that's rich in collagen and other nutrients.
DiamondGlow microdermabrasion removes damaged and dead skin cells to bring out newer skin cells. It also nourishes younger skin cells for the best results that enhance your appearance.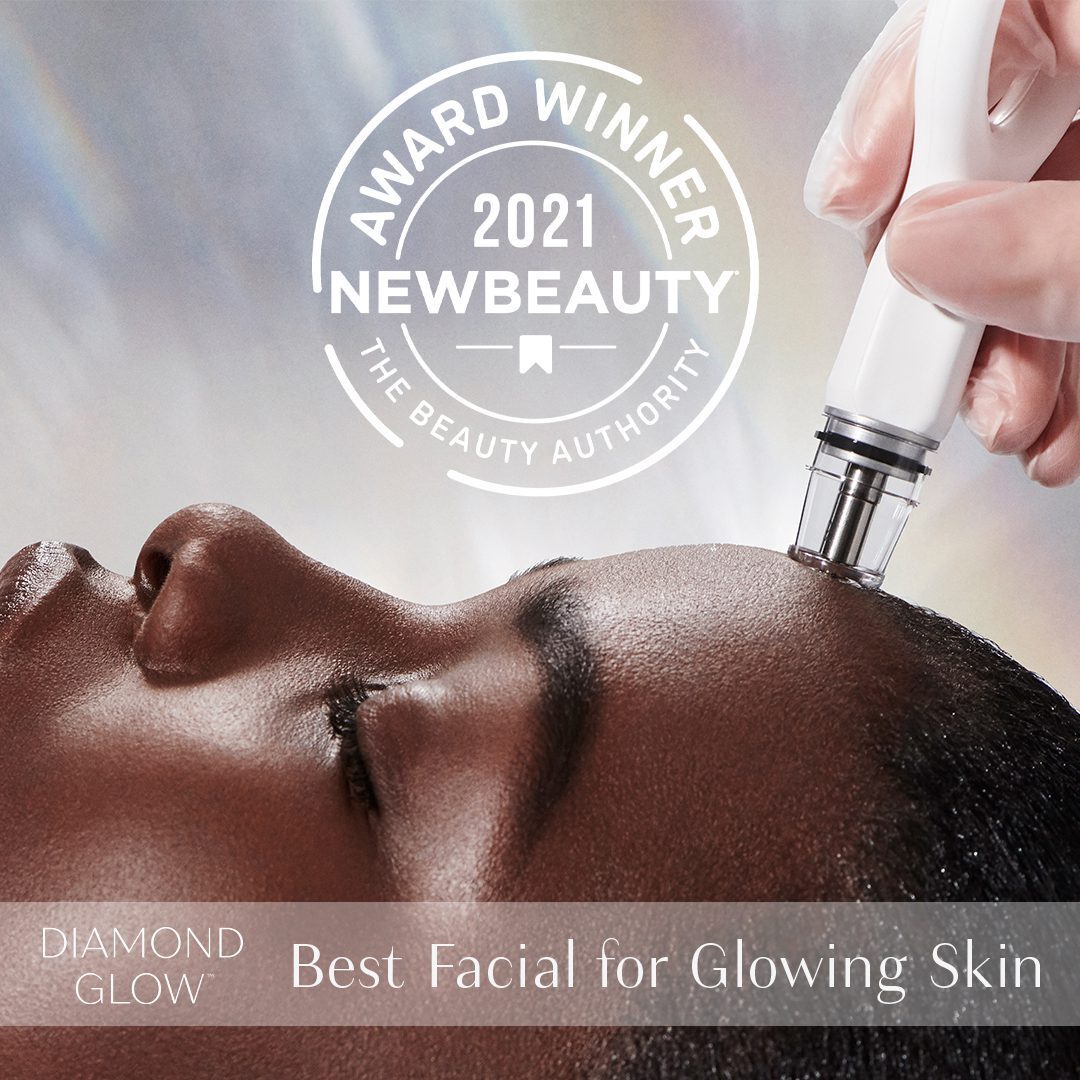 The DiamondGlow™ device is a general dermabrasion device that gently removes the top layer of skin and delivers topical cosmetic SkinMedica® Pro-Infusion Serums onto the skin. This treatment is not for everyone. Some typical side effects include a scratchy sensation, tightness, and redness. Rare side effects may occur. Please talk to your provider for additional information.
Looking for high-quality skin care and nutraceuticals? Check out our online store.